E Mail from
Steve Parker
has started this new page . . . . . .
Talking to my Grandchildren about Guy Fawkes night, got thinking about the great nights we used to have just after the war 1946,47,48,49,50.
The kids on the Maypole (of which I was one), used to start collecting rubbish for the bonfire weeks before the fifth, the fire was situated on the edge of the heath at the top of Heathend Rd. All the Maypole residents would be involved & save their rubbish,by the time of the big night everyone would turn out for the lighting & fireworks, of which there were plenty & bangers were bangers in those days & I'm not talking sausages!! One person who needs a mention was Herbie Richardson who always had some big rockets & Roman candles, ( or were they redundant flares?). Whatever they were he always put on a good show. When the adults started to wander home we kids would start our midnight feast of baked spuds, they always tasted better than any other time.
I must also mention Mr. Pope who would give rides to the kids on his pony. Great times & I can't recall anyone getting hurt, just a few minor burns. Anyone else remember these nights. Steve Parker
From Kim Button - Well, Steve - these are my memories of the time around Guy Fawkes night . . . . .
My 'window of time' as a kid was between c1963 and 1968. We would start collecting for the bonfire a couple of weeks prior to the 5th. After school and at weekends we would knock on doors of the houses on the estate and ask if they had anything to burn. It wasn't seen so much of a danger then - especially when we knew most of the residents, anyway. We would use all sorts of trolleys, contraptions and old prams to ferry the stuff over to the heath. We would always go around in little groups as some of the stuff could turn out to be quite bulky or heavy. My little gang at that time were David Richardson, Philip Read, Peter Walker, Mike Moran, Tony Smith, John Barrett, Robert Hogan, Alan and Barry Booth, Terry Warner, Michael Mckeough, Edward Ginn, Penny Smith, Alan MacLean and Philip Hayward. Most of us lived on the estate but some came from Baldwyns Park and Coldblow.
The main reason we youngsters laboured so hard was for the money we could earn ! Some residents took every opportunity to rid themselves of anything burnable (and not so burnable) and there were times when we would take complete demolished sheds, entire privet hedges, bushes, shrubs, furniture, doors, fences etc. If they were generous, the resident would give us three or four bob or thereabouts (15-20 pence in today's money). Doesn't seem a lot but this was more than our individual weekly pocket money - well worth it. This money would be shared out equally at the end of the day among the kids doing the job. A good Saturdays work could earn each of us about 5 shillings each (25 pence). Therefore, this was about two weeks pocket money in one day. At that time a packet of 20 cigarettes was about 3/9d - three shillings and nine pence (about 17 pence) so we felt very lucky. Sadly, some of us started smoking at 14. We felt it made us look so much older and was a really 'trendy' thing to do in those days. I wish I had never started. I have now stopped (March 2013).
As the bonfire grew and grew in height and girth so we would actually 'sculpture' it. Our ambitions normally exceeded the reality and most of the bonfires I remember had large circumference bases - in anticipation for a really high monster. So, as the 5th neared we would then gather up the looser stuff and create a thinner and higher fire. One of the greatest pleasures for us was to build little 'camps' in the fire. We would use all sorts of imagination and items to build our little 'dens'. We would use wood, lino, carpet, rugs, plywood, old doors, hardboard, motor cycle sidecars - anything. Some of these habitats were quite 'roomy' and when lit, added to the burning process by creating open pockets allowing flames to accelerate. Some people would take advantage of the opportunity and throw old mattresses on to it - these were filled with wire springs so were not really suitable - however . . . . . put two or three on top of each other and - hey presto - you have a fantastic trampoline !
As the 5th came nearer and nearer so our collections of small fireworks grew as well. Us boys weren't interested in the pretty stuff - we wanted bangs. Bangers were usually 1d each.
Better ones were the 2d or 3d 'Cannons'. These were just larger bangers. The best bangs came from 'Aerial Bombshells'. They were about 1/6d each. (7 and1/2 pence in today's money). They were fat, dumpy bangers. Some of us crazier kids would put them into sawn off scaffold poles and 'fire' them. Elf and safety would have had a field day.
Below 1930s poster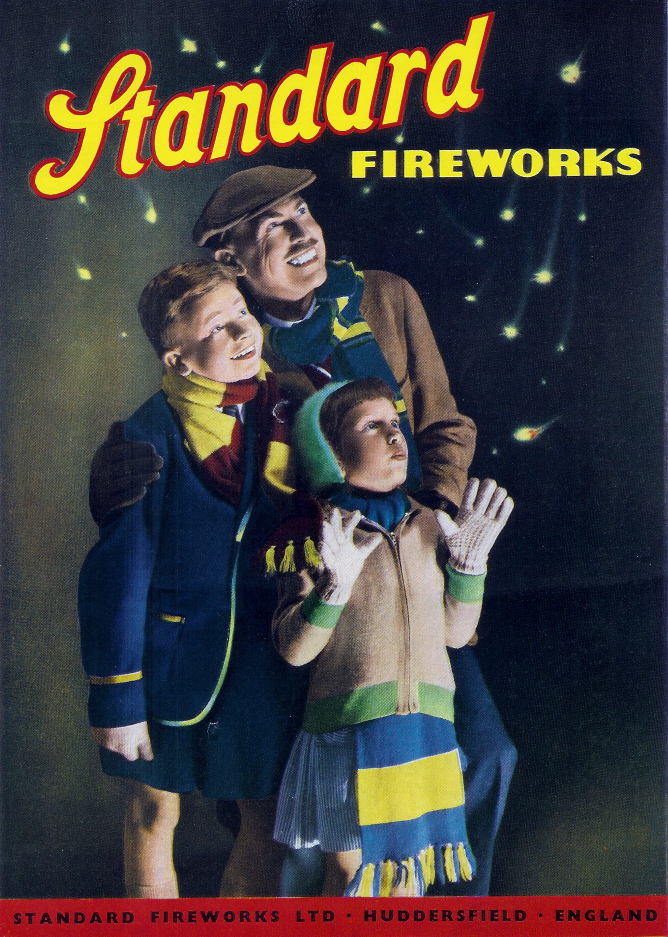 The actual night of the bonfire we just couldn't wait for it to get dark. It always seemed the ritual that 'Buster' from Denton Terrace had the privilege of lighting the bonfire. It would burn and burn furiously for hours, surrounded by many families all going 'ooh and aah' as people would light their fireworks. As Steve has said the best part was putting spuds or chestnuts in the embers.
The following day it would still be smoking and we would pile up the leftovers to make yet another fire. Great days. This practice of the bonfire on the heath ceased c1970 when Maypole School started to use the heath as their sports field. Several attempts were made to build more bonfires but they were quickly dismantled and taken away by the Council. End of an era.
If anyone else has any memories of this annual event please E Mail us at the site.